Football Recap 2017-18
The Fredericktown High School football program had a hard season this year. They finished the season with one win to their name, but the true victory came not from the scoreboard, but in player growth. I reached out to head coach Chuck Ford for his opinion on the season. I was met with this response:
"While the scoreboard did not show it, we did actually improve in a lot of areas. We also got a lot of young men in games at different positions to get their first taste of what a varsity football game is like. Our special teams were exceptional compared to the past year and our offense took some huge steps forward from the previous year in that a lot of individuals took steps to catch the ball better, our young linemen got better each week and we were able, towards the end of the season, to move the ball better. Our players worked extremely hard during the summer to better themselves and we hope that continues this next year. I was disappointed in how we played defensively although there were a lot of young and inexperienced players on that side of the ball. We will spend this off season and summer working on continuing good special teams play, learning how to finish drives on offense, and getting better at stopping, or at least slowing people down on defense.
There were a lot of changes that were made to the program itself in how things were done: conditioning, respecting people, learning to outwork our opponent, etc. All of this mixed in with a lot of key injuries, having to play very young and inexperienced football players at certain key positions added up to the season we had. Although it was not what our fans wanted to see, it was what all coaches expected would happen, and each year we will begin to get better and bring this program back to being competitive. These things take time and what we are building should last the test of time. Our young men never gave up and worked hard all year, which is very hard when you are losing, and most teams have to deal with that but we did not. See you at the games next year. WE ARE BLACKCATS!!!"
As long as spirits are kept next season and our players keep improving, the scoreboard will improve as well. You can support them by encouraging them and attending games next season. School support does wonders for the team.
Many players also received All Conference honors. Those players and their respective honors include:
Noah Korokis – 1st Team Wide Receiver, 1st Team Defensive Back
Ethan Flanagan – Honorable Mention Wide Receiver
Kenny Couch – 2nd Team Offensive Line
Isaak Starkey – 2nd Team Linebacker
Mike Parrish – 1st Team Defensive End, Unanimous 1st Team Returner
Colten Jordan – 2nd Team Punter, Unanimous 1st Team Kicker
Hopefully we can see more great things out of this program in the future. We will see them to continue to improve and show what blackcat pride really is.
About the Writer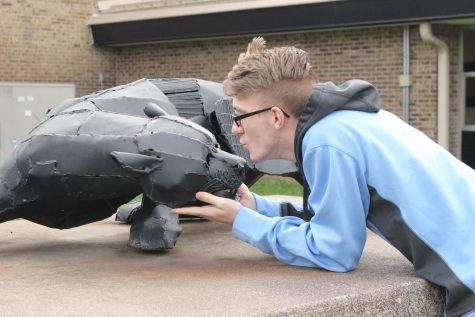 Easton Elrod, Editor
Easton is the editor who thinks he's in charge. He remembers basketball stats instead of remembering to turn in his homework.  He is the co-writer of...