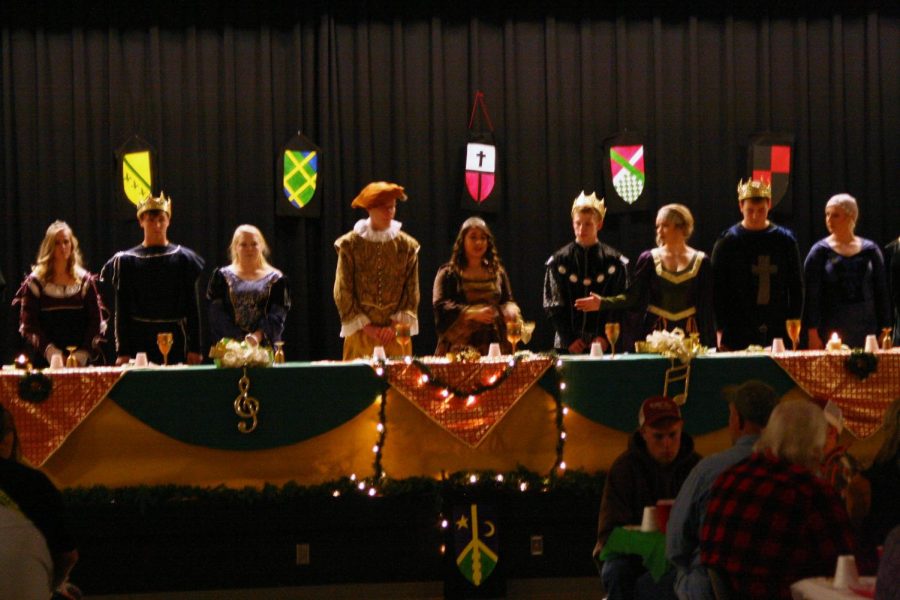 Allie Pickert
It's that wonderful time of year when houses are shining with Christmas lights and carolers are caroling in the streets. With all the wonderful Christmas music, it's easy for Fredericktown High School's choir to find some songs to perform for a merry crowd. Saturday, the sixth of December, at six o'clock the choir joined together for the first Madrigal Dinner in years. Madrigal Dinner is a feast and concert that helps to take people back to the days of old when pirates ran amuck and criminals were put in the stocks.
The choir as a whole performed a skit called, "Mertonsire and the Pirate's Tale." The little play brought a touch of comedy and lightheartedness to the crowd who was served food by serving wenches to go along with their play. The comedic relief of the play was the many arguments that the court jester played by Alyssa Pierson and a lord of the court played by Blake Olson as they made many puns and put a few people in the stocks.
After the skit had been reenacted and the food had been served, the choirs began their songs. The mixed choir began first, singing songs for Christmas morning. Women's choir sang next, bringing some more Christmas cheer to the audience with songs like "Ding Dong! Merrily on High." The concert choir was next, performing songs like "Throw Open Your Shutters" and an old Scottish ditty called, "Over the Sea to Skye."
The choirs closed out the concert together with a one minute song that, as you probably guessed, only lasted a minute. The concert was beautiful and fun, with comedy and involvement of the crowd. Hopefully, next year the choir will have another Madrigal Dinner. Until then, choir lovers are looking forward to the Pop Concert held every spring.