Softball Senior Night
September 28th was a special night for Fredericktown High School's softball team. Why? Because it was their Senior Night! The night started with the Junior Varsity girls playing against the Blue Jay's of Jefferson. They hit the night off with a bang and in a surprising turn of events the teams tied.
After the JV game, both the Varsity teams practiced, preparing to face-off, but before the game could begin the Senior Night ceremony had to happen. A freshmen JV player Madison Jennings took on the job of announcer and called the senior girls to the center of the field, along with their parents and escorts. Softball's seniors were Lane Massey, Haley Gilmore, Bobbi Dement, Maggie Goad, and Taylor Barrett; the crowd cheered as they took their places in the center field and their parents gave them hugs and presents for their hard work and determination.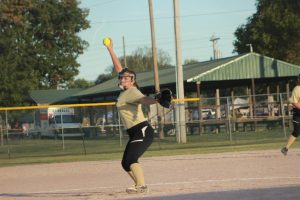 With the celebrations over the girls took to the field. The pitcher Taylor Barrett quickly went to work, striking the other team out with her fast throws. Fredericktown started off well; they were up 13-9, but even with senior Haley Gilmore hitting a triple, the Blue Jays took the victory from the Lady Cats with a score of 22-13.