STEAM Night
Hang on for a minute...we're trying to find some more stories you might like.
The second annual STEAM Night took place Thursday November 9th, 2017 from 5-7 p.m. This night gave students and people in the community a chance to participate in hands-on classes from FHS teachers, students, and other experts in the STEAM areas. Members of the community had to choose three out of eleven sessions to attend. The sessions each lasted twenty minutes with fifteen minute breaks to snack in between.
One of Fredericktown High's own teachers, Mrs. Mungle, taught her own class, The Chemistry of Cooking. There, she taught citizens how to make baked Alaska while providing additional snacks of her own.
Fall For Engineering was taught by Mrs. Hinkle. In the class she had them make a structure out of candy corn pumpkins and toothpicks.
The Secret Science of Movies was another session taught by Mr. Daniels, the middle school's seventh grade science teacher. During the session he kept the individuals on the edge of their seats playing soundtracks from multiple movies and video games as well. Mr. Daniels explained that a movie wouldn't be a movie without the soundtrack added. People can recognize movies without even watching them. Jaws was easily recognized even though children and many adults in the room hadn't even seen the movie. Mr. Daniels clarified the theme for the movie was easily recognized because the eerie, slow notes were registered with fear. You can tell what a movie is going to be about by listening to the soundtrack before even reading the summary of the movie. If a movie has powerful crescendos, a movie is most likely about an underdog who finally gets his or her break in the world and finds love.
The Fingerprinting class was actually taught by students from Science Club, but Mya Robbins was the main presenter. Men, women, and children were given the option to finger paint and to have their fingerprints taken in multiple ways.
STEAM Night was a success! We hope for more incredible speakers and presentations for years to come!
About the Writer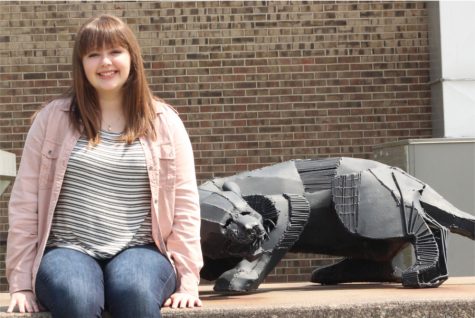 Abbie White, Writer
Abbie White is bae goals. She is funny and terrible at procrastinating. Her favorite chocolate candy is Twix, which is totally amazing. She loves anime with a great passion, especially Tokyo Ghoul, and Korean Pop, also known as K-Pop. This super-nerd loves the Netflix original series Stranger Things. She has two siblings whom she loves...