Mary Poppin'
Mrs. Ivy took her Drama Club members to the River Campus at Southeast Missouri State University Friday, February 23 to watch the wonderful play Mary Poppins. The eventful trip was an all day even, boarding the bus and leaving at eight o'clock not to return until 2:30 in the afternoon.
Mrs. Ivy and the members arrived at the River Campus around 9:30, thirty minutes before the play started. The doormen allowed seating fifteen minutes before the play. After taking a group picture, the members adored the beautiful interior while patiently waiting for the play to commence.
As the lights dimmed, the crowded room quickly fell silent. Not a sound was made; act one was starting. The cast quickly started singing and dancing, livening up the crowd. The entire cast had the crowd on the edge of their seats throughout the entire play.
Nearing the end of the play, the Butler began to walk up the wall and then proceeded to walk upside down while still singing. He then proceeded to flip while descending down to the ground. As the play came to its end, the entire room stood to their feet to applaud the cast and crew for such a wonderful performance. The play cast such vibrant and talented students as their characters.
Afterwards, members went to the mall and ate delicious Cape Girardeau food. If you ever get the chance, attend a play at the River Campus! It's a great experience!
About the Writer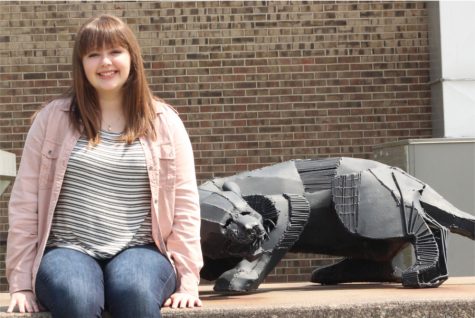 Abbie White, Writer
Abbie White is bae goals. She is funny and terrible at procrastinating. Her favorite chocolate candy is Twix, which is totally amazing. She loves anime...