Kicking For Equality
Hang on for a minute...we're trying to find some more stories you might like.
Sports are a big part of many people's lives. People play sports to keep their bodies healthy. Kids can go to college nearly or completely free by playing a sport well. Men and women can make money playing these sports professionally. But are our sport outlets completely fair when it comes to equality between the sexes? Not even close, but women have been fighting for advancements in this field for years now and are very close to winning this fight, especially due to the U.S. women's soccer team.
Before we get into that though, we have to learn a few things about the Olympics and its history with female competitors. The Olympics first started allowing women in 1900. The first year, nearly two dozen women compete, but only in golf and tennis. Over the years, women's participation in the games has been increasing, albeit very slowly. In 2012, 44% of the participators in the games were women. The U.S. women topped the U.S. men by earning 58 medals, including 29 gold, which is nearly double the amount of gold medals the U.S. men earned.
One particular team that tops the Olympics for the United States is the U.S. women's soccer team, a nearly undefeated team. This team has been trying to make advancements for women in sports for at least two years. Their attempts started with a complaint that they don't make nearly as much as the men's team, even though they win more than the men and people watch their games more. The team complains that their pay is unfair because men get paid just for showing up while women only get paid if they win. They still get a standard paycheck for being on the team but they don't get paid if they lose or forfeit, while the men get paid either way.
While the U.S. Soccer Federation has fired back against these women's comments by saying that the women actually get paid more, the math argues against the validity of the Federation's claims. According to data by the New York Times since 2008, the 25th highest-paid female player only earned a little over half the highest-paid male.
Since their attempts started the team has become more vocal in their attempts to earn equal pay for women in sports. At one match, they wore t-shirts with #EqualPayEqualPlay written across the shirts. They also took their issue to social media, hoping to garner sympathy  from their viewers.
They don't just do this for themselves though, these women fight for all women in their line of work. The U.S. soccer team honored the U.S. women's hockey team a few days ago at the SheBelieves Cup. Jill Ellis, women's soccer coach, said, "We're beyond thrilled to have the women's hockey team honored at our game, to have such amazing athletes, role models and competitors from both sports at the SheBelieves Cup is a perfect synergy of this tournament's message and women's sports."
These women have been working hard for advancement in their field and they are getting very close. Viewers look forward to seeing these women in the next summer Olympics and hope they get the gold and the pay they deserve.
About the Writer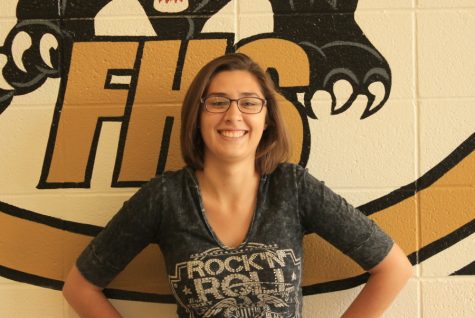 Allie Pickert, Writer
Allie loves Netflix and books. She is a classic book enthusiast that loves reading book series and not people's feelings. She also loves watching Netflix series like Riverdale, Stranger Things, and Supernatural. Her favorite non-Netflix series is Game of Thrones because the women are so fierce and vicious. Her obsession with reading definitely reflects in...