Party in the FHS
Starting the nineteenth through the 23rd, Feel Good Week was a week of a fun and revelry in self-love. The week is a fairly new FHS StuCo tradition that involves a week of days committed to making everybody feel loved and beautiful. During this week, you're supposed to come as you are and enjoy yourself as much as possible.
The week started off with a bang during a first hour assembly. While there was an epic game of rock paper scissors, the lip sync battles are what really made this assembly a blast. The lip sync battles were performed by each of the classes, excluding the cowardly freshmen, and a select few teachers. The sophomores kicked off the musical portion of the assembly by dancing and singing "Shake It Off" by Taylor Swift, and they shook the roof off the place with those awesome dance moves.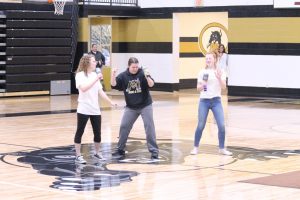 The juniors, a group of cool dudes, performed a classic song, "Welcome to the Jungle", that had everybody nodding their heads and had AJ showing off his awesome flips. The seniors performed another classic, though this time the dancing was decidedly more choreographed, "Wannabe" by the Spice Girls. Unfortunately for the other groups, what really made the crowd cheer was the teacher's lip sync of Miley Cyrus's "Party in the USA" with rocking guitar solos by Mr. Kruegar and Mr. Asher.
For the first day of Feel Good Week, everybody was supposed to wear a white shirt so the "warm and fuzzy" necklaces would stand out against them.  Warm and fuzzies are short pieces of string people are supposed to give out to other people along with a wonderful compliments. Next year you should give out a warm and fuzzy with a compliment and watch the smiles grow.
After that we were supposed to wear spring colors, to bring in the new, joyful season, like pastel pink and yellow and baby blue. Floral prints were a big hit on Tuesday. Wednesday was the day we were supposed to disconnect from social media, spend time working on ourselves rather than our internet image. Thursday we wore warm and soft clothes. Big sweaters and soft leggings are the best, right? Friday was a day of rest and relaxation. We wore sweats and didn't do our makeup or our hair.
Altogether, this week was a bundle of fun. People enjoy being able to make others feel good, as well as not having to put on pounds and pounds of makeup. Also, who doesn't love watching Mr. Asher get his groove thing on? Hopefully, this is one fun tradition that'll stick with our school for a long while.