Hunger and Drive
The Fredericktown High School soccer team has accomplished a ton this season. With the amount of effort they put into every single day, success is bound to happen. While there have been bumps in the season, the team has grown to become almost a hive mind in terms of synergy and the brotherhood they all share. When speaking to Ruben Benitez, midfielder, these characteristics all showed through. He told me about how the men on that field are not teammates, but brothers. They stand tall with each other, and would do anything for one another. Even with all of this, Ruben still sees improvement in the future. "Districts definitely," he replied ecstatically when asked about where he thinks the team will go. Throughout the whole interview I could just feel the hunger for success, and captured a glimpse of what all the hard work, sweat, and a few tears have gotten him. Even though the competition has been tough lately, the team never quit or gave up. This mentality led to the team going 4-5 with 3 tied games. If that doesn't show true hunger for success, then I don't know what does. If you wish to see this hunger for success, the boys will play Cape Central at home on October 17th. Come out and support true Blackcat Brotherhood!
About the Writer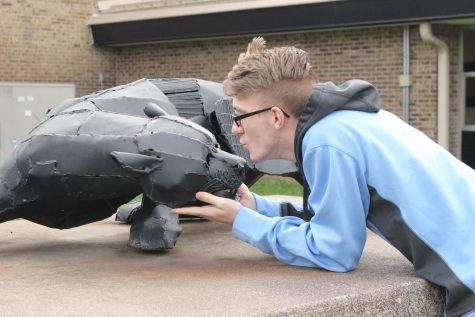 Easton Elrod, Editor
Easton is the editor who thinks he's in charge. He remembers basketball stats instead of remembering to turn in his homework.  He is the co-writer of...