Waving Goodbye to the Seniors
Hang on for a minute...we're trying to find some more stories you might like.
This year's FHS Volleycats did not end their season the way they wanted. Their final record was 7-19-1. Although they say they hated the way the season ended, they all can agree, including the coaches, that they have improved tremendously throughout the year even after all the mishaps throughout the season. They were very proud of themselves as a whole instead of just looking at themselves individually, which sometimes can be a very hard task. ¨They were the most selfless group of kids I´ve ever coached,¨ Coach Debbie Downs said.
The seniors took the ending of this season the hardest, knowing that they must move on from high school volleyball. Marissa Hale worded it as, ¨Don't blink, because before you know it, it will all be over.¨ A lot of the players felt this way; they did not want to quit playing just yet. Ending the season isn't the easiest for anyone on the team, including the underclassmen waving goodbye to the players they always looked up to. Coach Downs said, ¨This group of seniors was one of the best ones I've had. Even after a huge loss they would keep their heads high, which always set a great example for the underclassmen.¨
I asked the seniors to give their advice to all the underclassman players. They thought about this for a very long time, figuring out the right thing to say. Emmaline Glore worded hers as, ¨Don't be the topic on a Monday morning.¨ She doesn't want the players to constantly be in bad moods, or be sassy towards the coaches or other teammates. Once one person gets into a bad mood, most of the time a lot of others do too.
The best memories from the seniors were some that got us good. Katelyn White mentioned that her favorite memory was during a team bonding event, Abbie Sullens belly flopped into a huge mud puddle and acted like an Olympic swimmer. Another one about Abbie Sullens, from Kaitlyn Coffman, was when she was running towards a ball during practice and tripped over another one, when coach asked her if she hurt anything she got up and said ¨Just my pride,¨ and continued playing. Marissa Hale mentioned that her favorite memory was when she was throwing a ball meaning to hit Raylyn Dodd, but instead she hit Melissa Wulfert straight in the face.
These past four years were obviously ones to remember for these seniors. Even when they had rough seasons, they still kept their heads up and were still able to have fun playing. The coaches and players were very proud of themselves and each other.
About the Writer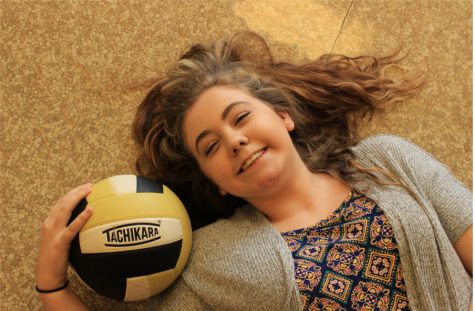 Melissa Wulfert, Writer
This lefty is the bestie. She was raised by Wulfs, which is why she's wild. If your back is out of whack hit up her dad (573-783-5530). Some of her...