Keep on Winning
With the season more than halfway over, it is important now more than ever for the basketball boys to get their heads in the game. Right now, the team has a record of 9-7, so we are doing great so far. In order to maintain the record, the team must keep their focus and morale. Senior Logan Winkelman says that the skill the team needs to work on the most is "passing and being unselfish." He did express, however, that he is confident that they will maintain the winning record until the end of the season.
Spirits were boosted last week, for we had our annual homecoming basketball game. The school spent the entire week pumping up for the game by dressing up, making posters, and rooting for the team at the pep rally and the game. Winkelman says that the most exciting part of the homecoming game was receiving a standing ovation for getting back on the court after an opponent fouled him and injured his leg.  Even though the team did not get a victory at the game, our record still stands, and we are hopeful for the future. What would help the team most is support from the school and community. You can contribute by going to the last two games, both at home on February 11th and 12th!
About the Writer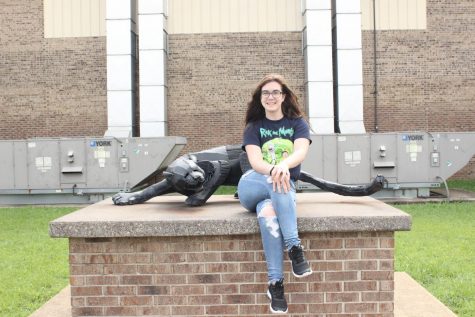 Molly Sikes, Editor
Molly is the editor that is actually in charge. She has an edgy vibe; colored hair, graphic tees, sneakers, and skinny jeans are her go-to when it...