Knowledge Wins Competitions
Every year, select students at Fredericktown High School go to compete at Southeast Missouri State University in the Regional Science Olympiad. This year's event occurred on February 9th, with Fredericktown taking 3rd place overall. The team is coached by Wendy O'Neal, Miriah Allgier, and Gavin Krueger. Eleven students began preparing in September after school and competed in 22 out of the available 23 events. These students proceeded to place in most of the events. The results are as follows:
1st Place:
Disease Detectives- Hunter Bellew and Anna Robbins
Experimental Design- Lidia Myers and Tyler Sherrill
2nd Place:
Astronomy- Hadley Hicks and Anna Robbins
Boomilever- Daniel Bathe and Anna Robbins
Chemistry Lab- Carter Corcino and Lidia Myers
Codebusters- Hunter Bellew and Carter Corcino
Designer Genes- Daniel Bathe and Hunter Bellew
Fermi Questions- Carter Corcino, Peyton England, and Katelyn White
Herpetology- Peyton England and Tyler Sherrill
Water Quality- Hunter Bellew and Libby Mooney
Wright Stuff- Hunter Bellew and Libby Mooney
3rd Place
Dynamic Planet- Hadley Hicks and Lizzy Houart
Forensics- Anna Robbins and Katelyn White
Fossils- Peyton England and Tyler Sherrill
Geologic Mapping- Daniel Bathe and Peyton England
Mousetrap Vehicle- Lizzy Houart and Daniel Bathe
Protein Modeling- Hunter Bellew and Hadley Hicks
Thermodynamics- Lizzy Houart and Libby Mooney
4th Place
Anatomy and Physiology- Lidia Myers and Anna Robbins
Circuit Lab- Lidia Myers and Tyler Sherrill
Write It Do It- Lidia Myers and Libby Mooney
About the Writer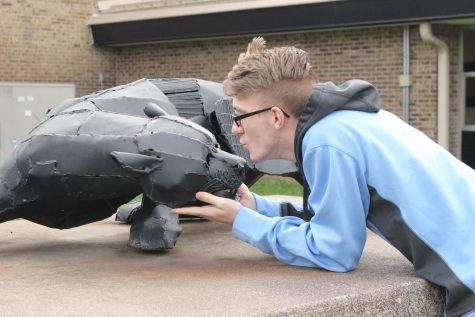 Easton Elrod, Editor
Easton is the editor who thinks he's in charge. He remembers basketball stats instead of remembering to turn in his homework.  He is the co-writer of...