2019 Tennis Districts
That's a wrap for the Fredericktown Tennis Team's 2019 season! Their last game was October 12th. It was their districts game. Sophomore Skylar Hennen describes the ordeal as, "long and tiring, but it was worth it." She went on to win her match and make it to the semi finals, finally finishing at 4th place. Junior Liz Hinkle went on to place 3rd overall.
When asked about how she thought the season went as a whole, Skylar said, "It was pretty good even though we didn't win a bunch of games. We enjoyed our time on the 'short bus' and messing around at practice. I think everyone improved a lot and played hard."  She was proud of her overall performance, placing 1st and 3rd in the Farmington tournament, and 4th in districts.  She has been on the team for two years now, and is getting better and better. She plays no other school sports, but has played basketball and football in the past. "To me tennis is a good way to relive stress. During basketball, people have to sit the bench. But in tennis everyone gets to play. It's also more individual so you can't be mad at your team for losing. " She chose to go with tennis after buying a racket over the summer and falling in love with it. Finally, she hopes by the time she graduates she can go to state and build up the team more.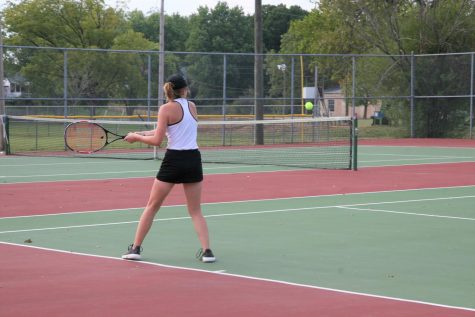 Fredericktown's Tennis team really has very hardworking and dedicated girls! We are all very proud of each and every one of them. Be sure to catch them during their 2020 season!