Senior Night – Boys Soccer
The 2022 boys soccer team consists of 25 hard working players that do all they can to get better. As of right now their record stands at 2-4, but that doesn't mean they haven't been accomplishing great things as the season progresses. Ever since COVID-19 we have pushed senior night to be closer to the beginning of the season in case of anything unexpected. Though it's not the seniors' last game on the field, it is still a bittersweet moment that the players and fans share as a whole. They finished their game against St. Paul with an awesome score of 7-0 to result in a great senior night game.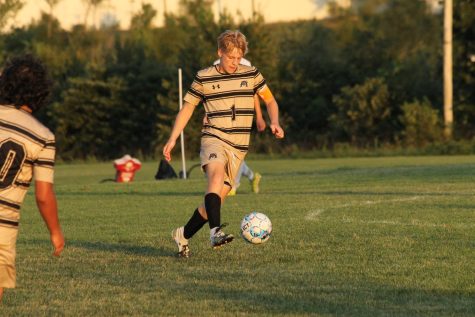 During the game, Austin Pullen (12) assisted Marcos Navarette (11) for the opening goal, and then Conner Rouse (11) scored closely behind. Brandon Martinez (9) scored the third goal, making it 3-0 off a Conner corner kick to finish the first half. Marcos then began the second half with a goal and assisted Conner for another goal in that half, making it 5-0. Next, Austin scored off an assist by Conner, followed by Oscar Millan (9) finishing the game with a goal assisted by Gage Montgomery (9). These players worked hard—along with many others that weren't mentioned—to achieve this great win.
There are a total of eight seniors that show great leadership and dedication on and off the field. Those include McCoy Clark, captain Keiden Wright, captain Nolan Sullivan, captain Austin Pullen, Miguel Flores, captain Tristan Lunsford, Eduardo Lopez, and Domanick Biesemeyer. Many of these guys have been playing soccer together ever since they were little, resulting in great chemistry while on the field. As this season continues, these players will always put their all into the sport they love. Nearly all of these guys have been part of the boys soccer program for the full four years of their high school careers.
We have watched them grow not only in the sport but into the great guys they are today. It is sad to see them leave, but exciting to know what they have planned for themselves in their near future. Nolan Sullivan plans to go to college (yet to be decided) and attain a degree in criminology. Tristan Lunsford hopes to go into a four year college also to play soccer and get a degree in cyber security. McCoy Clark intends to attend Southeast Missouri State University and major in Business Administration and minor in entrepreneurship. Eduardo Lopez wants to go to the police academy. Keiden Wright plans to attend Lindenwood University and get a degree in engineering. Austin Pullen expects to attend Southeast Missouri State University to get a degree in mechanical engineering. Domanick Biesemeyer plans to attend Southeast Missouri State University for a major he has not yet decided. Miguel Flores intends to go to a four year college that he has not yet decided upon and major in marine biology. These boys have a bright and fulfilling future ahead of them, and we wish them the best of luck as they leave and enter this big world.