FHS Homecoming Coronation/Dance
Despite homecoming week being cut short due to weather, the show went on, and your 2018 Winter Homecoming queen and king were announced. Here is a list of all homecoming candidates and the clubs/organizations they represent:
Student Council: Jenna Wood and Ricky Phillips
FCCLA: Brookelyn Lord escorted by Grant Shankle
Beta: Gracie Flanagan and Kaden Lee
FFA: Savannah Hinkle and Carson Stephens
Basketball: Kylie Mann and David Frazier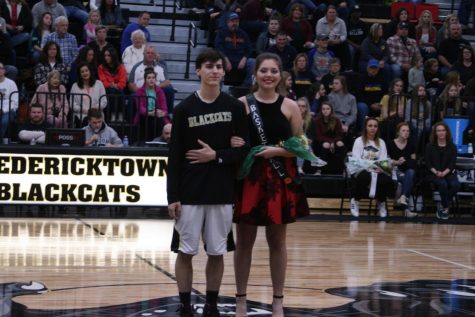 JROTC: Shelly Harbison and Caleb Reese
Cheer: Jacquelyn Cowsert and Chris Krieger
Gold Dusters: Malyn Adams and Kenny Couch
Music Department: Haley Gilmore and Connor DeFrancesco
DECA/FBLA/FTA: Alaniss Files and Kegan Kunz
Publications Department: Abbie White and Nolan Hovis
Scholar Bowl: Allie Pickert and Justin Rhodes
The Homecoming queen and king, crowned by last year's winners Grace Bradford and Ethan Rouse were Gracie Flanagan and Kaden Lee. Congratulations to them and all other candidates for a homecoming well-done.
After the game, the fun began. In the cafeteria was a GLOW dance hosted by StuCo. The cafeteria lights were turned off, and the only available light was through the glow sticks almost everyone draped all over their bodies as jewelry. The atmosphere was great, and hopefully we see a dance like it at homecoming next year.