Stay Cool and Eat Ice Cream
Hang on for a minute...we're trying to find some more stories you might like.
The nice spring weather is starting to heat up towards a sweltering summer, and everybody's looking for a way to stay cool and have fun in the sun. Some people love to swim in glistening waters while some people prefer to just stay inside with the air conditioning, but my favorite way to stay cool in the summer is to eat some refreshingly cold and sweet ice cream.
There are so many different places to eat ice cream in Missouri, and we might not all stay in Fredericktown this season. So what happens when you go on vacation and you don't know where the local ice cream stand is or what is good and what is not there? Fear no more, here's a list of the best places to get ice cream all around Missouri and what can be found there.
First we have All Aboard Ice Cream. If you want to see Grand Falls, the largest continuously running waterfall in Joplin, Missouri, you might want to bring a nice scoop of some cold ice cream with you. The absolute best place to stop for ice cream in Joplin is All Aboard Ice Cream, previously known as Anderson's Ice Cream. This ice cream shop has the greatest reviews and is known for its Creme Brûlée ice cream, a caramel confection for all you sweet-tooths. If you're not in the mood for ice cream, though, you could try some of their old-fashioned burgers.
We all know what we can do in St. Louis. There's the zoo, the science museum, Grant's Farm, even Six Flags. You can definitely find ice cream at most, if not all, of those places, but if you want to try some really sweet cones, you should make a pit stop at Crown Candy Kitchen. Opened in 1913, this family-run sweets store is known for making their own chocolate, gourmet sandwiches, and, yes, ice cream! They're known for their Deluxe Sundaes and their fantastic frozen prices.
Another city with a zoo is Kansas City, but that's not the only thing this sparkling gem has. In Kansas City, history buffs can visit the National World War 1 Museum. Families can have fun at the World of Fun theme park with rides for all ages. And who would have fun if Kansas City didn't have a great ice cream place? Glacé Artisan Ice Cream is known for it's plethora of flavorful, frozen treats. Selling flavors like raspberry sorbet, lavender and honey, goat cheese cherry, and spiced dark chocolate, this shop is sure to have something sweet to suit everybody's need.
In Lee's Summit, Missouri, you can go back in time to live in a world before phones and computers if you visit Missouri Town 1855. You can also visit Paradise Park, a fun attraction with bumper cars and rock walls, as well as Powell Gardens, a lovely place to picnic on a romantic getaway. All of these would be completely overlooked if there wasn't a great ice cream shop nearby. Poppy's Ice Cream and Coffee Shop offers coffee for all y'all boring people who don't want to have fun and eat ice cream. Wait, that's nobody—nobody does not want to eat ice cream. This shop offers some of the most unique flavors of ice cream I've ever heard of, like fleur de sel, burnt sugar, grape nuts, chocolate coma, and even burnt sour cream. This is definitely not a shop to miss on your next trip to Lee's Summit.
There are a few of the best places to get ice cream around Missouri. Hopefully some of you visit some of these wonderful shops and try some of these rockin' flavors during your summer vacation. Remember to stay cool and eat ice cream.
About the Writer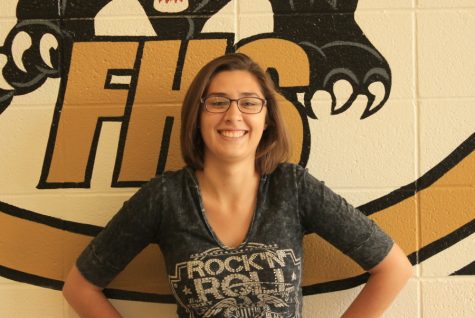 Allie Pickert, Writer
Allie loves Netflix and books. She is a classic book enthusiast that loves reading book series and not people's feelings. She also loves watching Netflix...