Pink Out Volleyball
On Tuesday October 1st, 2019 the Fredericktown Blackcat junior varsity and varsity volleyball teams played against the Farmington nights for our Pink Out cancer awareness game. Both the players and fans were completely decked out in pink. Boys had pink tape on their legs and socks, various people had on tutus, and even the opposing team had on their pink jerseys. In honor of this special cancer awareness game, Mr. James Miller (a Kelly A. Burlison Middle School employee) was brought out in between the first and second set of the varsity game. This Mr. Gibbs gave a sweet description of Mr. Miller's time working here and told everyone what a wonderful and dedicated person that he is. Then the entire volleyball team took a picture with Mr. Miller standing the middle of them. This was all done because Mr. Miller was very unfortunately struck with the disastrous misfortune of getting cancer. As Mr. Gibbs said, we are all praying for him and hoping for the best possible outcome.
Aside from that, the junior varsity had a very tough time trying to beat the other side. They never gave up and gave it their best shot. They would constantly run, dive, and jump in an attempt to get the ball back to the other side, but the Farmington Volleyball team always hit the ball unexpectedly hard and fast. The first set was sixteen to twenty five. They came back with a determination to win in the second set, but Farmington was still on top with nine to twenty five.
The varsity game was more intense than anything. With the game being a Pink Out game, there was no shortage in spirited fans. Even though the girls lost the first set (nine to twenty five), they went on to win the second set (twenty five to nineteen). The entire time of the second set, the Fredericktown students stood on the side lines and cheered the girls on with all their might. They continued to stand and cheer for the third set. It was a very close game, but the black and gold fans were in dismay at the end when Farmington won the final set twenty two to twenty five. We'll get em' next time.
About the Writer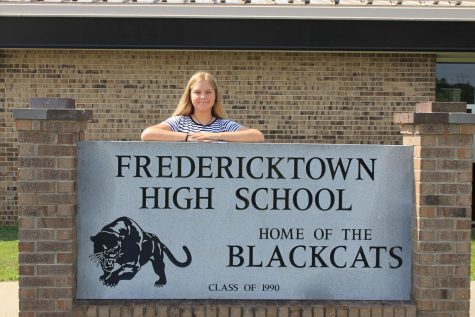 Allie Moon, Writer
Allie is a big fan of pineapples, her room is decorated with them.  Her favorite movie is definitely Harry Potter and she has also read all of the books....