The Chillest Moves : Gold Dusters
Hang on for a minute...we're trying to find some more stories you might like.
With three performances under their belt, the Fredericktown Gold Dusters are starting off the season with a spin! With this year's team consisting of Senior Mackenzie Rice, Juniors: Emilee Goldsmith, Madison Jennings, Stella Steck, Sophomores: Trista Waggener, Paxton Clark, Layni Kinkead, and Freshman Ryan Nelson.
With practices starting in early September, the girls have been working non-stop to prepare for their many performances throughout the season. For instance, October 11, 2019, marked the day of their second football performance, and first time performance of "Everytime" by Cascada, choreographed by Mackenzie Rice. Although the weather was not favorable that day – cold and wet – they still pulled through despite the frigid cold.
The effort of the girls, however, provided the crowd with motivation and made the cold slightly more bearable. Through merit and confidence, this group of girls only seem to continue improving earning the applause and cheers of the crowd. "This group of girls has a lot of heart and determination which makes me happy. I feel like It's gonna be a good year." Says their coach, Shannon Hovis. And I couldn't agree more, this season's going to be great!
About the Writer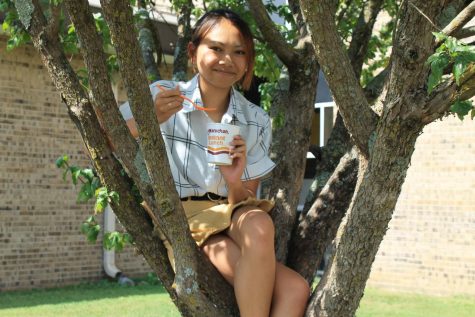 Lucy Pham, Writer
From 8,977 miles away, comes a girl from the little corner of Tra Vinh, Vietnam. At first glance, Lucy Pham seems like your average Asian. But once you...