Volleyball: Pink Out Time!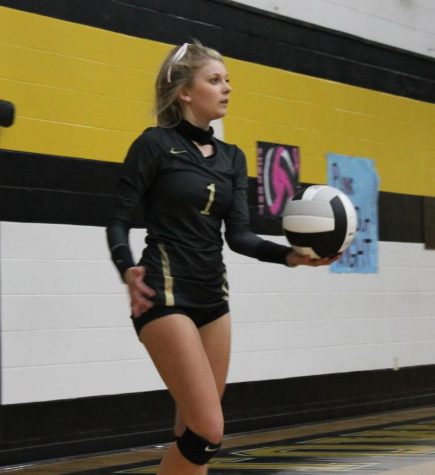 The challenges of COVID-19 have impacted drastic changes on the world in general, and these effects have not left sports untouched.  Teams are now expected to wear facemasks during both practices and games. And in other schools, whole teams have ended up quarantined.  But the Lady Cats volleyball teams have forged ahead despite these challenges, playing fiercely, and as of yet unaffected by the ravages of COVID-19.  As of October 8th, Coach Billy McFadden said that the volleyball season is going well, noting that "The girls are continually improving and they work hard every day they are in the gym.  Our JV team currently holds a record of 12-3 and our varsity is currently 7-10."
The new rules surrounding the numbers of sets in a game has kept the team practicing hard, spending much of their off time practicing, to the point where some have had trouble keeping up with their schoolwork. Coach McFadden said they were soon to have put in an impressive 174 hours in total, with another 60 hours expected before the end of the season.
Last week, on October 13th, the Lady Cats volleyball teams played against Ste. Genevieve in an action-packed duel for the win!  Both teams and the fans alike were all decked out in a myriad of pinks, fighting strong or cheering on enthusiastically in support of the special cancer-awareness game.  In honor of both her and the occasion, the young cancer fighter Norah Miller — a 6th grade student from our very own Fredericktown Middle School — was brought out between the first and second half of the game. As she stood smiling brightly alongside the team, her inspiring story was told by Coach Eaves to the crowd, from her diagnosis on March 10th, 2020, to the hopeful end to her chemotherapy ahead of schedule in the next month or so!
The game was an intense battle between the teams, with the winners of rounds seeming to switch each time.  The Lady Cats dodged across the court, diving and leaping in valiant attempts to win each round, the crowd — including the boys soccer team, every one of them dressed up in pink themselves — cheering them on enthusiastically.  They won the second set with a score of 25-23, but while the matches remained close, they were unable to win another set, and Ste. Genevieve eventually won the game overall.