Keeping Track
2020-2021 has been a hurdle for everyone, and quite literally for the FHS track and field team. Bad puns aside, this year's team is smaller than any of the previous, but that doesn't stop them from coming out on top! Through wind or rain, the team has kept up with their rigorous schedules and back-to-back meets.
Let's explore the new and returning talents this year. At first, track and field may be an intimidating sport to start due to the lack of knowledge of one's specialty. However, with exploration and experimentation, you'll eventually find your forte. This applies to both the freshman and juniors, the latter of which had their first year cut short due to the recent COVID-19 pandemic. One of the stars this year is Mark Heine (10), whose specialty falls in short distance and jumps. He's set the team's season bests of 12.25 for the 100m, 58.92 for the 400m, 17'8.25″ for the long jump, and 5'3″ for the high jump. Another Sophomore is Linley Rehkop, the girls' short distance ace who has also set season records of 13.55 for the 100, 28.92 for the 200m, and 1:14.62 for the 400m. She also throws javelin and does long jump, causing her to run back and forth with no breaks to get to her events. This is due to the fact that track events and field events coincide with each other, straining the athletes to plan and keep up with their current and future tasks—to keep "track" per se.
So how do the athletes maintain their bodies along with keeping up with their schedules? Many alternate which events they run to let their bodies have a break or for them to do another event in the field area. Their runs go by fast, yet the preparation they take beforehand can triple the time they spend in the event. With regular stretching, warming up, body checkups, correct diet, and equipment maintenance, runners can enhance their performance. However, keeping up with their school schedule is another story. Track season takes place at the end of the year, a time for finals and piles of homework. The anxiety and strain of keeping up with school can affect their mental performance, so athletes tend to work on their projects beforehand or during their meets after or before they run.
Track and field isn't just running and throwing; it's also a sport of planning and persistence where you have to run against yourself and your opponents. Be it time or people, we are always in a race against something, yet track runners find a way to work with it, pushing themselves to work harder constantly.
About the Writer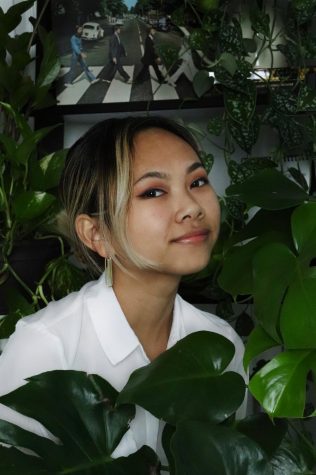 Lucy Pham, Editor
From 8,977 miles away, comes a girl from the little corner of Tra Vinh, Vietnam. At first glance, Lucy Pham seems like your average Asian with a height...