Girls Soccer: Senior Sign Off!
With graduation just over the horizon, the majority of sports teams are working towards their last games of the season. There isn't much left to do, a few games, Conference, and then the district tournament! But once that's all over the team parts ways for the summer, and we say farewell to the seniors as they prepare for the next step of their lives.
Being part of a high school sports team can be an incredibly important part of growing up for some people. It's a childhood hobby that grows into a perfected skill as they carry it through high school and into college, something to gain friendships, memories, and dreams from. You get to laugh for it, cheer for it, hope for it. This year, four talented seniors who've been perfecting this game since their preschool years are graduating, leaving them to carry on their careers—both in sports and otherwise. So let's give a shoutout to these soon-to-be graduates, and wish them the best in their lives to come!
Makayla Bowman
After graduation, Makayla Bowman is going to Mineral Area College for two years before transferring to a different college for her final degree. She plans to go into teaching for elementary school. As she's been playing soccer since she was five years old, Makayla has said, "I have many memories that will always stick with me." She pointed to an April Fool's prank where the team pretended to dodge practice by hiding in a bathroom stall as one of her favorites.
Alivia Buxton
Alivia Buxton has been playing soccer for around fifteen years and has a ton of memories to share from it, though some of her favorites come from tournaments over the years. For example, winning the Hillsboro Tournament in 2019, as well as helping take care of and entertain ill kids at a tournament in St. Louis!  Once she's done with high school, Alivia is planning to continue playing soccer at Missouri State University, though she isn't sure if she'd go into business or exercise science quite yet. In general, she was pointed out by her fellow seniors as "obviously our best player," to specifically quote Kyndal Dodd.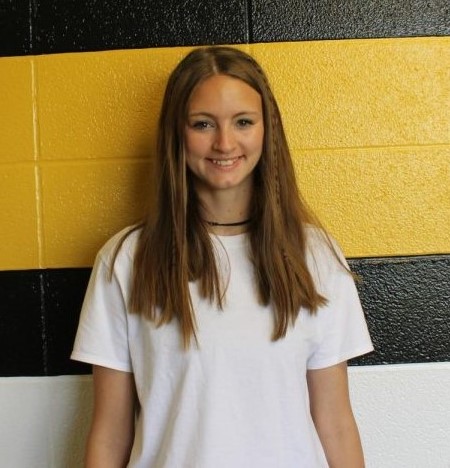 Kyndal Dodd
Sports whiz Kyndal Dodd has been playing soccer for fourteen years now.  While she plans to continue playing basketball in college rather than soccer, she nonetheless greatly appreciates her time on the team!  She says it taught her how to have fun and to enjoy things while they last, something that can easily be said about life in general.  Following this theme, her favorite memory was of a time Coach McCoy dramatically failed to kick a ball, ending up flat on his back in the process.  For now, Kyndal is going to Mineral Area College for her associate's degree, but later she'll be going to either beauty school or esthetician school, depending on where life takes her.
Callie Slinkard
Another soccer senior who is going to Mineral Area College for their associate's degree is Callie. She has been playing soccer since she was about five, and fully intends on carrying this into college!  She says the sport has taught her how to work with others over the years, and what it means to be on a team.  She was quick to answer on her favorite memory, pointing out a time when her teammate Dani West (10) and Coach McCoy both fell down during practice.