The Madrigal Dinner
The Madrigal Dinner had a great interactive play and dinner this year. In her first year directing this event, Mrs. Haley Dewey was joined by former choir director Lisa Lewis, who accompanied the choirs during their musical numbers. Choir members greeted guests, directed them to their table numbers, and announced their names to everyone while they took their seats. This year's hosts and hostesses were the following students:
Sophomores
Cheyenne Bowman
Courtney Chamblee
Savanna Gardner
Blaire Hulvey
Mollie Lindsey
Akasha Schuh
Tristyn Sikes
Paige Stumbaugh
Juniors
Kylee Baca
Caraline Davis
McKenzie Kaligian
Landon McClanahand
Nadia Mills
Leann Tull
At the dinner, the choir entered singing "Masters in the Hall" while walking between the tables; then the main cast went up on stage to the big table, while everyone else lined up on the walls. A few members of the choir broke off to serve drinks to the guests and had some time to interact with them.
After a small amount of time, the jester, Lorde Carter Hale (9) of Hysteria, talked vaguely about what would happen in the future. Then came a small break to socialize with the cast and choir while a few people came out with trays to serve them dinner, catered by Lana Stephens. Aiana McLaughlin (10) and Sarah Murray (10) served the royal court while a number of other choir members, all freshmen, served the guests: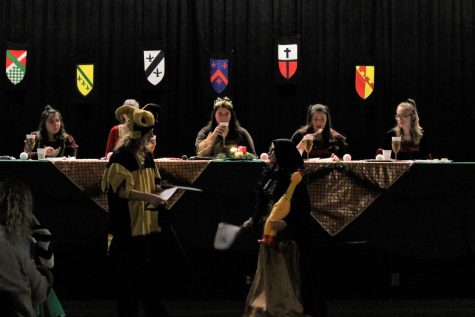 Jayden Jenkins
Savannah Pogue
Valentina Pellegrino
Callie Rice
Brandi Curtis
Ethan Lock
Krystina McCleary
Jocelyn Peters
Nakota Saphian
Abigail Schmid
Payton Stricklan
Jadyn Yount
The play started again when everyone had been served and was seated. In this year's performance, a girl named Gossage, played by Shelby Kennedy (9), wanted to sell a goose that lays golden eggs. No one believed her, so the court had a guard named Fiddlepants, played by Allison Edgy (10), lock up the goose to see if it would lay a golden egg. Additional cast members participating in this part of the play were town crier Maddison Phares (10) and pages Caden Heifner (9) and Troy McGee (10).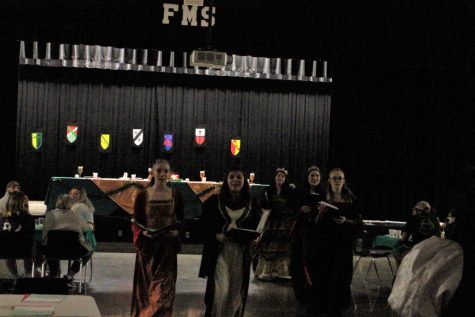 After dessert, Detective Upson Downey, played by Isabel Pirtle (10), showed up saying that the goose was murdered. The cast, including a member of the local nobility, Mertonsire—played by Paige Maas (10)—started accusing each other, so the investigator had the guests write down who they think committed the crime. Most people thought it was the jester who killed the goose.
Just before the night ended, mixed choir sang Greg Gilpin's "Sing Joy, Sing Gaudia!" Concert choir performed Linda Spevacek's arrangement of "Riu Riu Chiu" with soloists Kaitlyn Maas and Kaitlynn Sandman. While walking back to the hall they started out in, both choirs joined in singing "Silent Night." Fantastic job, FHS choirs!
About the Writer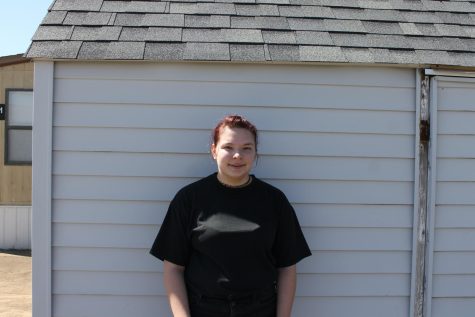 Elizabeth Smithey, Writer
Wanting to try out new things and expand her skills, Elizabeth Smithey joined scratch pad. She loves to write and draw in her spare time, she also considers...