Animé Club
Animé Club is a really interesting club where they get together on Tuesdays and Thursdays each week. It is run by Mrs. Comnick, who always has a smile on her face and is very passionate about what she does. In Animé Club, it feels very homey and there is always a nice atmosphere. The two seniors in the club, Krystian Dennison and Blue Williams, both really enjoy the club and love the opportunities to learn about different cultures. At the beginning of the year, Mrs. Comnick lets the club members choose their own schedule for each day and what they want to do. Animé Club isn't just about animé; you also learn all about Japanese culture and holidays. iTt is somewhat like a fun history class in a way.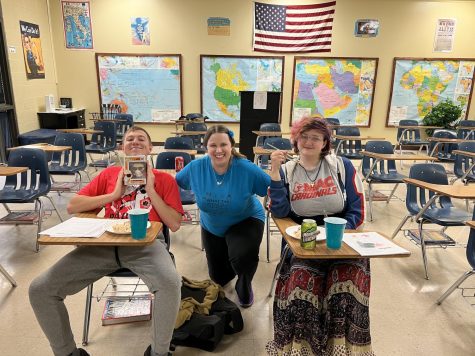 Animé Club does many different things throughout the year. Some days they all go over Japanese words as a class; other days they watch animé or read manga. They even celebrate the holidays.
This year they have done a variety of things. Their main animé that they watched was Sailor Moon, which is an older but really good animé. Sailor Moon happens to be Mrs. Comnick's go-to cosplay character at Comic-Con conventions. They read a manga called The Gentlemen's Alliance Cross and studied a lot of Japanese words and their traditional holidays. They also watched a variety of movies this year; a few of them are Red Turtle, Whisper of the Heart, The Wind Rises, and Pretty Soldier Sailor Moon R: The Movie. It's a mystery what the R means, but several theories are shared among fans.
We hope that Animé is back "next season" with even more fun!