Raider Interviews
Teamwork and dedication, is what Raider is all about. From waking up at four in the morning to run a 5k to carrying fifty-pound rucksacks for a mile, our Raiders have a strong connection and are able to work together with ease. Senior Caleb Reese and two freshmen, Jeffrey Wilson and David Robinson, have shared with me their experiences being in Raider and their goals within and outside of Raider.
Waking up at four a.m. is a normal thing for Raiders. Once they wake up they eat a light breakfast and start the competition with a 10k road march carrying all their equipment. They do this against the other teams "…We gotta run really hard and try really hard to make sure we beat the other schools." Caleb Reese states about the 10k. Throughout the day they have more events like this like carrying 200 pound litters, map reading, knot tying, and a lot of team work activities. "My favorite event is all the obstacle coarses." Jeffrey Wilson's favorite raider experience.
"Overall we are best at teamwork and being able to push each other to do better." David Robinson explaining what our raiders are best at. The raiders i interviewed all said that when asked what the team was best at. This shows that they are all on the same page and clearly work together well. Anyone that knows the raiders knows that they have a strong bond with one another. For the rest of the interview continue to read below.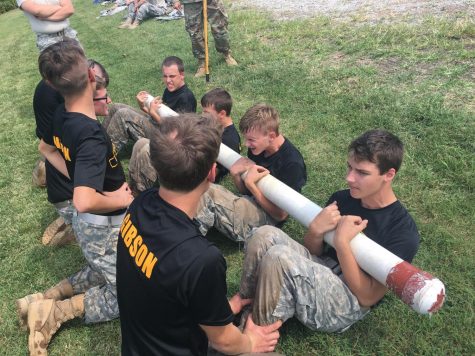 Interiew:
Caleb Reese:   Q; What event are you best at?   A; Personally, I'm good at stepping in and helping out with leadership roles. Like if our leader blanks out, I like to step in and help lead. I enjoy leading in my JROTC class. So I would say I'm good at leading
Q; How do these events benefit you physically and within your career goals?   A; I've already signed my United States Army contract. I want to be infantry, so training and team building excersises help train us physically and emotionaly and strengthen our minds and our bodies.
Q; What made you want to go into the military?   A; When I got older I saw all my family members that went into Army and I look up to people who served like First Sargeant Cofer. I just always wanted to be the guy to help people whether it is behind the scenes or not.
Q; Since this is your senior year, what would you like to leave behind for your teammates as you graduate?   A; I would want to leave a strong sense of working together as a team and not thinking of yourself. So, of I had to leave one thing it would be to work together and watch out for each other.
Jeffrey Wilson:   Q; What event are you best at?   A; The obstacle course.
Q; How do these events benefit you physically and career wise?   A; Physically they help me get stronger and career wise, I'm going to join the military.
Q; What goals do you have for raider?   A; I just want to become better than the people that have been in their in a while.
David Robinson:   Q; How do these events benefit you physically and career wise?   A; Well to go into any branch of the military you have to go through boot camp and raider teaches the beginning of boot camp.
Q; Do you plan on going into the military?   A; I would like to but I don't know if it would be a realistic goal because I want to go to college to get my wildlife degree, science degree, and biology degree so I can be a Conservation Officer.
Q; What goals do you have within Raider?   A; I want to be better than I was when I first started, I don't care about rank or anything, But I'm already better than what I was so I've already acheived that goal, But by the time I'm a senior i want to be better than I am now.