Spin the Tracks: Pop Concert 2019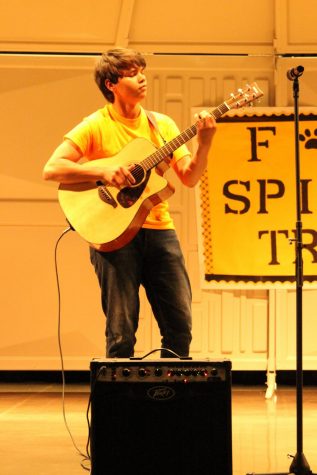 Every year, concert choir holds their special pop concert, singing songs they have spent the semester learning and choreographing. This year, the theme of the concert was "Spin the Tracks," and the entire choir sang a medley of popular songs from different decades.
Other features of the concert include many songs from soloists; the students were able to choose the songs that they sang. Some soloists were Ariahna Green, singing "Heartbreak Girl," a song she sang at the talent show, as well; Mario Go'mez, performing "Smells Like Teen Spirit"; and Hallie Sutton, singing "Cancer." The cast worked hard to prepare their solos for the concert, and they performed beautifully in front of their audience.
Another medley the full choir performed was their "Forever Country Medley," including country songs that have been popular throughout the decades. This medley was followed by even more soloists, all performing songs they chose.
After this segment, awards were given to seniors who have been in choir all four years of high school, a tough accomplishment. As we round out the year, congratulate a choir senior, and encourage others to express art through music. Not many fit a choir class into their schedules every year, but the opportunity sure makes a difference in the lives of those who choose it.