"The Tassel Was Worth the Hassle"
The 2020-2021 school year is finally over! Having their junior year cut short in the midst of a COVID-19 pandemic, the seniors pulled through strong! Balancing work, school, and college entrance applications, the seniors have gotten their diplomas and are ready to get out.
Having COVID restrictions lifted—yet still advised—the seniors graduated with a full house in the FHS gym this Sunday, May 16. With inspiring and humorous speeches by Valedictorian Patrick Sikes and Salutatorian Anna Robbins, nobody was bored throughout the evening. After the formalities, the seniors were ready to receive their diplomas and become graduates. It was an emotional walk for many, but overall it was a joyful time. Although all are glad the school year is over, there are aspects everyone would miss. "I'm going to miss my teachers, clubs, and friends a lot. It will be hard not seeing all of my peers every day," states Madison Curry.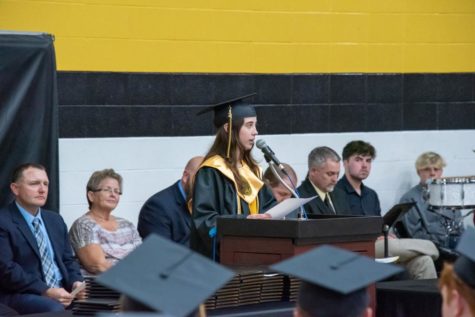 With high school complete, the start of college life looms over these grads. Some are prepared and are experienced due to college or tech classes they've taken in high school; however, for some this will be a new and anxious experience. Several have their courses and colleges planned for their future while others are spending their first year exploring future choices. "After high school I'm going to the University of Evansville in Indiana where I'll be getting a bachelor's in archaeology." Anna Robins stated this in her recent interview. The 2021 salutatorian has had her future planned for her career path since the beginning of her high school years. Like the previous graduation article, the biggest option for many is to go local—be it SEMO or MAC—and explore their course options later.
The journey through high school was long, and the seniors hope their college journey won't be that difficult. However, we don't know what the future holds and can only hope for the best. Everyone's just excited for their summer break, and we congratulate the seniors for graduating!