In the Life of Mrs. Jenkerson
Hang on for a minute...we're trying to find some more stories you might like.
Mrs. Jenkerson is one of the four new teachers at our school. She is a special education teacher who helps students that have a difficult time in the classroom. She recently moved over the summer with her family to begin teaching this school year.
From the original thought to attend college and become a second or fourth grade teacher, she quickly changed her route. After Mrs. Jenkerson got the opportunity to get early field experience in a special education class, she then realized that was what she wanted to do. After getting her degree from Truman State, she had the opportunity to start teaching at a school in Independence, Missouri for five years. Afterwards, she then packed her bags and moved to Ohio to teach at New Carlisle Middle School and Logan Middle School for a total of seven years. She's been teaching at Mehlville High School in Fenton, Missouri for the last twelve years.
Mrs. Jenkerson knows what it's like first-hand to struggle learning new concepts; it's what drew her towards teaching. Watching a student who has been struggling over a task realize that he or she has the ability to do it is what she enjoys most about her job. She loves watching something finally "click" with her students.
Outside of school, Mrs. Jenkerson loves spending time with her family. They enjoy camping together and being active at the church her husband pastors in Pinecrest. Reading is also enjoyable to Mrs. Jenkerson; she's currently reading Christian Teachers in Public Schools.
Mrs. Jenkerson is very pleased at how helpful and welcoming everyone here has been. She commented that it's nice to see students with a good work ethic in school as well as outside of school.
About the Writer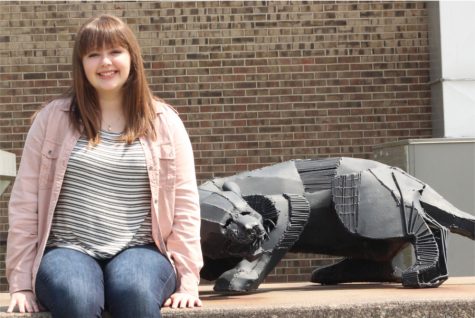 Abbie White, Writer
Abbie White is bae goals. She is funny and terrible at procrastinating. Her favorite chocolate candy is Twix, which is totally amazing. She loves anime...