Quality at the Right Price
A foundation is a structure that supports a building. It's built up by steel and concrete, labor and drive, community, and hard work. This groundwork not only supports the structure, but the community it resides in. One foundation of our town is the Gifford Lumber Company.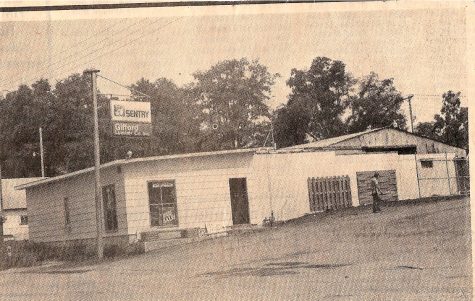 Founded in 1929, Gifford Lumber—then Gifford and Sons—received its start in Fredericktown by Charles Gifford. Originally selling railroad ties, Gifford broadened to hardwood flooring and siding. In 1945 the store was expanded and additionally sold hardware and paint products. During this time the company specialized in building custom homes and commercial buildings. Buildings like the Presbyterian Church, Najim Funeral Home (now, East Missouri Action Agency), Marquand School, and the remodeling of both the Methodist churches in Fredericktown and Marquand. Over the next few years, many homes and commercial buildings were constructed. 
In 1966, Charles Gifford retired and passed the torch to his son Leroy. Leroy focused more on the retail side of the business and the contracting side slowly phased out. Time went on and new generations took up the management of Gifford Lumber Company. Now Gifford Lumber is managed by Mike and Penny Gifford along with the fifth generation, John and Missy Clark. The two couples share ownership to this day. This generation moved the business forward onto Highway 67 and broke ground, building their new establishment in December 1998. Along with the move, they expanded their business into rental storage/housing. From lumber and tools to children's toys and self-storage, their variety is endless.  
Gifford at its core is family. Not only is Gifford a family-owned business, it also embodies family in its workplace. Its friendly and welcoming environment make it a comfortable place to work in. High schoolers and alumni who choose to work at Gifford Lumber can learn a wide range of skills—skills that can help the student with organization, social interaction, problem-solving, and merchandising skills. "Its fun working at Giffords, the employees are like family, we have a lot of laughs. I don't know much about lumber, but the people around me help with anything I don't know," states Paxton Clark (12), a long time employee of Giffords.
If you engage in an event in Fredericktown, you most likely will find Gifford Lumber Company participating in it. Missy Clark, one of the owners of Gifford says, "We sponsor most all community events and sponsor any and all school events asked of us. We love to show our support to our community." From small things like supplying material, food trucks, and dressing up as monsters—they can do it all. One memorable event is the yearly haunted house. In adjunct to the Fredericktown Fire Department, Gifford helps supply materials and workers to aid in scaring the visitors.
Gifford's motto has always been "Quality at the Right Price." Faces you meet may change throughout the years, but at its core, their values are still the same. Quality is not only reflected in their products, but their business ethics and contributions to the community. They are a foundation. In addition to building the homes around Fredericktown, they are building a sense of community in the county. So stop by anytime whether you want lumber or pickled eggs. Gifford will always serve with quality.