Dank Memes and Marching Teams: Mr. Politte's Arrival at Fredericktown High School
Hang on for a minute...we're trying to find some more stories you might like.
Succeeding Mr. Ellison, Mr. Joshua Politte is the new band director of the middle and high school bands. Mr. Politte is from De Soto, Missouri, but his last teaching job was in Ellington, Missouri. He even once taught at a school with an average graduating class size of 12 in the town of Bunker, Missouri (population 140). "I lived in a motel for two years."
Mr. Politte enjoys candlelit dinners and long walks on the beach. Just kidding. What he loves to do is shop at his favorite comic book store at the South County Mall (his favorite superhero is The Flash) and hunt for dank memes on the internet. One defining characteristic of Mr. Politte is his diverse collection of fancy ties. He wears a different stylish tie or bow tie every single day.
As for what will change in the band, don't worry. Mr. Politte is changing the usual jazzy feel of the marching band to a more standard style of marching music, but they will still never fail to entertain. The band will also still compete in the same competitions, and they will still perform at the SEMO Homecoming Parade (?) and the Jackson Band Festival. Mr. Politte also plans to create a pep band for the upcoming basketball season. The pep band will play pop songs in the crowd at games to hype up the audience and the team. So, even though Mr. E is gone, and some things are changing, you can still count on the band to be a knockout at their usual events and more.
About the Writer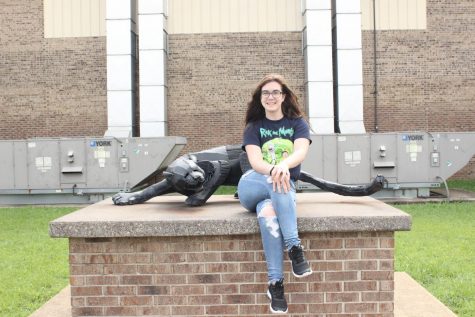 Molly Sikes, Editor
Molly is the editor that is actually in charge. She has an edgy vibe; colored hair, graphic tees, sneakers, and skinny jeans are her go-to when it...