Starting up the Season
The FHS Lady Cats have been working all summer long on preparing for their upcoming games and tournaments. Coach McFadden (high school's ISS teacher) held several open gyms and dedicated 80 hours along with assistant coach Ms. Chazelle (elementary counselor) to the girls, working on drills to improve their skills.
The coaches weren't the only ones dedicating their time to the team. The girls had gotten together outside of the gym for team bonding activities like hiking trips, water days, and even participating in community service projects. To conclude the summer, they held a team camp where the girls were divided into 3 groups and competed in several exciting games like trivia and serving races. This experience allowed the girls to come together and not only make memories but bond as a team.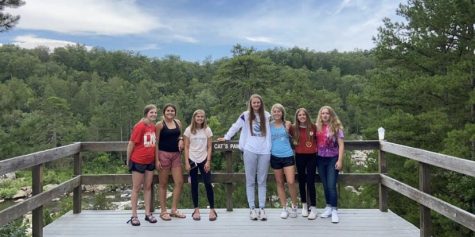 After a summer full of fun, the team officially started their season. The Lady Cats began working hard at practices trying to perfect a foolproof rotation to use against competitors. Beyond question this team cares deeply for the sport; a quote from Katie Crites, a freshmen on the team, says, "I love the sport because is is majestic yet fascinating." This mindset is important when it comes to the game because without it, it would be hard to stay motivated. And sure enough, the girls brought their dedication when it came to their first week of games.
The Lady Cats had their first game of the season at Herculaneum. The JV started the game off strong with an outstanding win, beating Herculaneum in two sets. While the varsity came out slow, they clutched the win in the third set. Going on to play Scott city for their second game of the year was a new experience for the varsity girls. They were playing by a new MSHSAA rule where the game is played best of 5. This worked the girls even harder to beat a well-rounded team. Linley Rehkop, a starting varsity player shares,"Scott City had a couple of good players that pushed us in ways to become better." Although they faced new changes, both JV and varsity succeeded to pull out a win beating Scott City.
To finish their long week of away games they played against South Iron. This game was taken to 5 sets, which worked the girls like never before. Although they gave everything they had, South Iron still took the win. Their loss showed the team where their weaknesses are and—most importantly—where their strengths lie. Nonetheless, the FHS volleyball team holds the record of 2-1. With more games to come, the team has a bright future ahead!