That's a Wrap!
While the Blackcat golf team is finishing up their season, I got a chance to interview some of the athletes on the team. Sophomores Garrett Ward and Dalton Winnick gave me some insight on what it is like to compete and be active members of the team.
What was one thing you wanted to improve on this season? Did you accomplish your goal?
"I wanted to get the mental game of golf down and I think I figured it out." – Dalton Winnick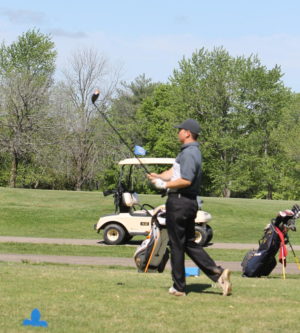 "I wanted to work on getting my putting a lot better so I could be more successful when I was up on the green." – Garrett Ward
What are some characteristics that you believe a golf player should have to succeed?
"Being a gentlemen, easy going, and able to think through any situation." – Dalton Winnick
"I believe you need the drive and motivation to push yourself to get better." – Garrett Ward
What would you tell someone who is wanting to join the team next year who is new to the sport?
"If you are thinking about joining the team, you should come out and play. We would love to have a big team." – Dalton Winnick
"Do what you want to do. Don't give up on the things that you enjoy doing, it doesn't matter what anyone else thinks." – Garrett Ward
Describe the best memory you have made this year?
"Bringing home the hardware was a very memorable moment because it made me feel accomplished." – Dalton Winnick
"When the bus broke down on the way to one of our tournaments, and then we ended up winning that day." – Garrett Ward
Senior Spotlight
The seniors this season, Josiah White and Dawson Buford, were new additions to this year's team. Golf couldn't have been a better spring sport for these guys to pick up. They had already kept themselves busy with soccer and basketball, and with it being their last chance to be involved with the golf team they had to take the opportunity.
What kind of skills can you gain from golf that you can't from other sports?
"Golf can teach you good etiquette and how to keep competition respectful unlike other contact sports that get physical." – Josiah White
"Golf has taught me responsibility for my actions and has kept me in good physical form." – Dawson Buford
Is golf something that you will continue to play in your free time? If so why?
"Yes, It is a very fun sport to play with your friends on any nice day of the week!" – Josiah White
"I want to continue to play golf because it is something that me and my friends enjoy doing together." – Dawson Buford
Looking back on the season, what is something that you will miss the most?
"I will miss Coach Carver and his jokes." – Josiah White
"I will miss Coach Carver teaching us how to master putting and chipping." – Dawson Buford