Getting in the Swing of Things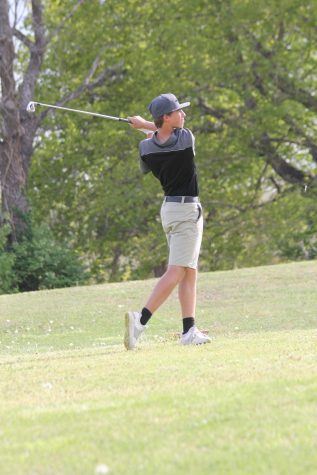 Fredericktown High School's golf team has had an exciting season. The team is filled with fresh talent being that there are no seniors on the team and the majority of players consist of sophomores and freshmen. This year's roster is
Jackson Smith (11)
Nathanael White (11)
Braxton Neel (10)
Ella Clauser (10)
Braydon McMinn (10)
Carson Buford (9)
Walker Smith (9)
Grant Thompson (9)
Out of all of these dedicated players, there has been so much growth throughout the season! This roster holds only two returning players from the 2022 season, which are two sophomores, Braxton Neel and Braydon McMinn. Both of these athletes have made multiple achievements throughout the season through many matches against schools like West County, Central, North County, Ste. Gen, Farmington, Arcadia Valley, and Potosi. Some of these notable achievements include the following:
Braxton Neel receiving medalist honors with a low score of 38
Braydon McMinn placing 16th out of 59 golfers at the North County Invitational
Braydon McMinn finishing 9th overall with a score of 85 at the St. Pius Invitational
In addition to these accomplishments, the other golfers on the Fredericktown Golf team have made some incredible improvements on their swings, mindsets, and knowledge of the game! Two freshmen, Carson Buford and Grant Thompson, were able to finish 3rd in the April 7th Pallo's Junior Varsity match at North County. This achievement included two nice and shiny medals to take home as a token of their successes.
Even though the other athletes on the team did not bring home any significant awards or honors to showcase their talent, it is important to note how hard they have worked all season long to become great golfers. As an underclassman at FHS, it is important to try new skills and get in the swing of things!