Drama, Drama, Drama
Hang on for a minute...we're trying to find some more stories you might like.
Drama Club is kicking it off this year with the announcements of their officers and their play. Each day of the week, Mrs. Ivy has the students in her drama class perform different vocal exercises. The exercises help the students to articulate properly and project their voices. The class is helping to prepare the students for the play and any future performing careers. Another thing the class is learning is correct terminology.
Macbeth off Kilter is coming out in February. It's a spin-off of William Shakespeare's original dark and twisted play, Macbeth. Scotty Macbeth and Duncan Morto attend Highland High School in the present day. Scotty is a senior football player and student council secretary. Duncan is a senior quarterback and student council president. One day Scotty meets the Weird Sisters, Pandora and Bertha. The Weird Sisters are part of a gothic clique run by their mother, Mother Weird. The two sisters manipulate Scotty into believing he should be the senior class president instead of Duncan. Tensions rise as true characters' selves are shown in this comedic play.
Next Tuesday, October 17th there will be a meeting for drama club right after school. Mrs. Ivy will talk about the upcoming auditions for the play, all members are encouraged to try-out! Although the play calls for multiple male roles, females can apply. Try-outs will be held in mid-November.
Drama Club relies on help from shop classes and Art Club to help with their sets and props. Other than that, you have to be a member of the club to be in the play. You do not have to be in the class in order to be a member of the club.
In February, the drama class and all members are going take a day off school to go to Southeast Missouri State University and watch Mary Poppins.
The Drama Club is no longer accepting new members for this year. However, we'd love if you'd consider us next year!
About the Writer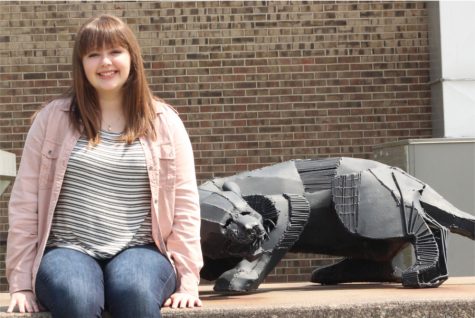 Abbie White, Writer
Abbie White is bae goals. She is funny and terrible at procrastinating. Her favorite chocolate candy is Twix, which is totally amazing. She loves anime...