40 Degree Kick-Off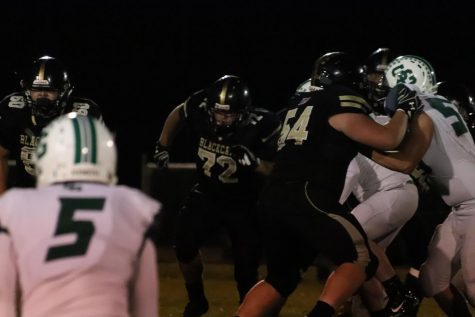 Homecoming. The time for social bonding, competitive school spirit, and the on-going hunt of juniors for a parking spot. All spirit aside, homecoming is the celebration of fall sports, more specifically Football.
Starting off the night with a chilly 40 degrees, the weather was unforgiving for it also rained the night before. But that didn't deter the crowd as they came flooding in to show their support. This year the boys played against the Ste. Genevieve Dragons with a season record of 1-6. Although the low record, it only served as their motivation to work harder. To show for that, the boys pulled ahead in the 1st quarter and kept their lead despite the frigid cold. "It's one of the coldest night's we've played, but I'm feeling pretty good about our team," says Jeffery Couch (12). 
Even so, the weather was relentless and the team slowly regressed. "Our mental state isn't in it today. But even though it's wet and only getting colder, I know they're trying their best, and I'm proud of them," Coach Ford states. But to the crowd's eyes the increase of the opposing team fueled their competitive spirit causing the cheers to only grow louder. The growing support seemed to have brought the team's spirit back, for they quickly caught up to the Dragons and players like Malachi Kyle (11) and Skylar Holland (12) shone through to score many points.
Sadly, the game ended with the Blackcats losing 28-36. But playing in this harsh weather is an amazing feat in itself. All in all, this year's annual homecoming game was a success, even if it was a loss. But there are still more games to play and many more chances to improve, so look forward to it!