"Welcome to the Jungle"
On multiple occasions, the Gold Dusters wowed the crowd with their performance of this spunky routine to a song by Guns N' Roses.
Previous gold duster, Skylar Sikes, put time and effort in to choreograph this dance for the girls. This dance was a piece that they tried out with. It took them one three hour practice to get the basics down, then continued to make revisions until it was something that they adored.
And they aren't the only ones! It's definitely a crowd pleaser with all of its jumps, tricks, and turns. The crowd never fails to go wild as the dance unfolds and the girls put their all into putting on a good show. the half time performance is something everyone looks forward to and always enjoys. Even when things don't go the way they were planned, the girls always pull through with something spectacular.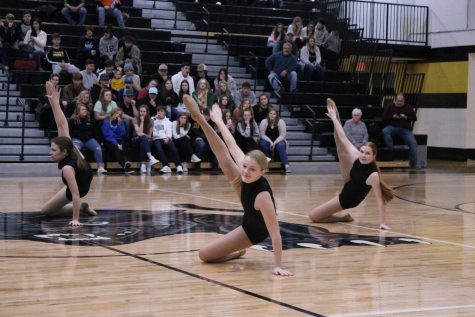 One time in particular, the girls performed at the half time game against the Arcadia Valley Tigers and everyone was very happy with the results. There were many "oohs" and "aahs" to be heard from the crowd as they watched the amazing dance unfold into something that not only the Gold Dusters could be proud of, but the entire school of Fredericktown to brag about.
The Gold Dusters have been an aspect to brag about for years now. They never fail to bring a performance to the table that is above and beyond. They amaze crowds at games as well as competitions and have won countless awards with their witty routines and high aspirations. If it weren't for the hard working, tremendously dedicated, and high hoped group of girls that the Gold Dusters consists of every year, they wouldn't be where they are now with the amazing record that they continue to uphold as time passes. Great job ladies. we can't wait to be astonished once again as you bring us more and more dazzling dances.