Home Sweet Homecoming
February fourth, two thousand twenty twenty, the Gold Dusters performed a dazzling piece to a remix of Pitbull songs that got the crowd pumped up and everyone full of school spirit. This dance took around two weeks to learn. The choreography came from a video off of YouTube instead of they way they usually have former or current gold dusters choreograph the dance. While they were already changing things up with where the dance came from, they also added in new moves and several jumps and turns.
They started off by rallying the high school students during the school day at the basketball homecoming pep rally. You could hear people cheering from every corner of the gym, excited to see how great the girls did in showing off this up-beat dance. Viewers couldn't have been happier or more exhilarated for the game to come.
Later that night, they continued to get people going as they performed during half time of the varsity game. They made their grand entrance, each girl waving and making a cute facial expression as their name was called out to be recognized for all of their hard work during the season. Everyone went crazy as Mackenzie Rice, who had just been announced homecoming queen before the start of the game, was called out. Team member Maddie Jennings felt very happy to hear and see that her friend had won because "I had voted for her and she's a gold duster".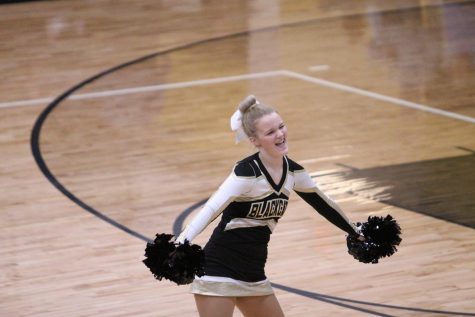 The Gold Duster's night came to a close as they ended the dance on their knees with their arm raised in victory as they crowd let out applause and hollers to congratulate them on their eye-catching performance.