Cross Country – Their Sport is Your Sport's Punishment
The Blackcats Cross Country team has been training long and hard over the past few seasons; the runners have been dedicated to the sport ever since they first joined the team. They consist of 2 seniors, 5 juniors, 4 sophomores, and 3 freshmen. Not only does the team have new runners, but they also hold experience, with some who have been running ever since their 7th grade year. Every week they continue to put in as many miles as they can. "I average about 20-30 miles a week," Ava Laut (11) shares. While looking ahead, the middle school has even started to create their own cross country team. This is a great way to give the athletes time to grow into exceptional runners if they continue to participate during their high school years.
Lyndan Gruenke
The sport is not just about how fast you can complete 3.1 miles, but how much you are willing to push yourself. As these runners compete against other schools, they are constantly striving to advance in their races; even though their bodies are tired, they persist and keep fighting.  I asked Lyndan Gruenke (11) if there was anything that motivates him during his race, and he said, "Looking ahead during my race—to see the runners in front— gives me the encouragement to tell myself I can do it!" In the race hosted by Bismark at Mineral Area College, he had placed 3rd out of 86 varsity runners, finishing with a time of 17:00.83. In addition to finishing in the top three, Lyndan also broke the school's record for the fastest 5k, previously set at a time of 17:20 by a 2020 graduate, Brayden Mullins.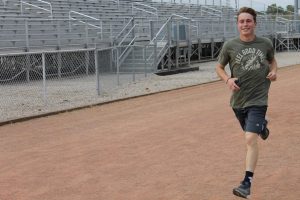 The Blackcats then went on to Oak Ridge on September 22nd to go against several teams and came out with many victories.  Lyndan took 1st place in the boys varsity race with a time of 17:17. He told me that he wasn't expecting to win in the beginning, because he actually had been in second place for the first two miles and then finally had passed the competition during the last mile. The whole team was excited to see him win the meet, and Lyndan finally felt accomplished with his results.
Other Successes
Oak Ridge could be considered the best meet for the team so far. The girls within the team had run admirable races, with Ava Laut finishing in the top 20 of the girls varsity race, followed by Belle Hanshew (11) and Patience Garland (10) who had also completed their race in the top 20 for the junior varsity. Equally as important to placing in races is having personal successes, and the Fredericktown Blackcats have had one of those this season. Caleb Jenkerson (10) made an impressive achievement by beating his own personal record by over 2 minutes. With only six more meets scheduled, the athletes will continue to strive throughout their season with hustle and determination to progress their times.